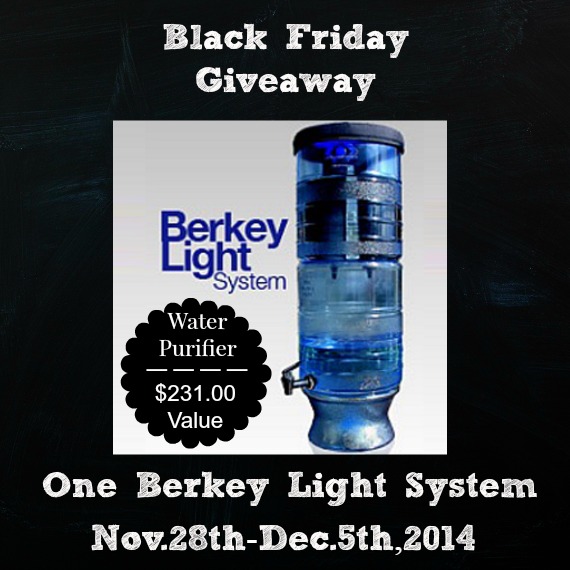 With all the sales going on last weekend, it is FUN to be able to share something that is FREE!  I am excited to share this Berkey Light Water Purifier Giveaway that sponsored by LPC Survival. The Berkey Light Water Purifier is an ideal water filtration system for everyday use at home, travel, outdoors or during emergencies, and this system includes one set of Black Berkey Elements. Someone will be getting one for FREE!
2 Black Berkey Elements
Serves 1 – 5 People
Holds aprox 2.75 Gallons
The Berkey Light is easy to set up and install. It measures 26.5″ x 9.25″ with the base included, but the system can also be used without the base and stands 21″ tall.  It weighs 5 lbs when empty and can hold 2.75 gallons of water.  This system is configured with two Black Berkey® purification elements so it can purify over 4 Gallons per hour. The containers consist of shatter-resistant, non BPA, copolyester material.
If you have always wanted a Berkey, now's your chance! Submit your entries below.
This Berkey Light System is a sponsored giveaway and open to any resident who is 18 years of age or older who lives in one of the 48 US Contiguous States. This giveaway starts on Friday, Nov. 28th at 5:00 am (MST) and ends on Friday, Dec.5th, 2014 at 5:00 pm (MST). The winner will be notified by email and will have 24 hours to respond. If we do not hear back from said winner in the designated time period of 24 hours we will choose another winner and they will have 24 hours to respond from the time the notification email is sent. Please check your SPAM email folders. Good luck to everyone! Let's be prepared for the unexpected!