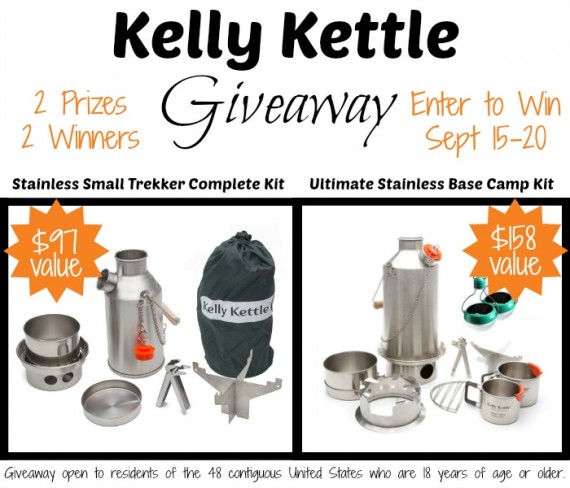 Who would love to win a Kelly Kettle in another group giveaway?
I know many of you entered the Big Berkey giveaway last week and you are voting on what I should giveaway next week.  National Preparedness month is so fun!
Like last week's giveaway, this one is sponsored by a whole group of preparedness bloggers that I have the privilege of joining.  It is open to all of our collective readers.  Next week's giveaway is something I'm doing on my own that is only for my readers as a "thank you" for supporting me!
I am so thankful to Glen at KellyKettleUSA for sponsoring the giveaway today! If you are interested in seeing a post on how one of these Kelly Kettle kits work, we have you covered.  Check out this post from Food Storage Moms: KellyKettles.  You can also watch this video:
The Kelly Kettle is amazing because you can use natural fuel sources that you may find which decreases the need for storing lots of fuel.  Use dry leaves, twigs or pinecones. Water boils in minutes. Gotta love it!
In this Kelly Kettle giveaway we will have two winners. One will win the stove kit on the left, the second winner will win the stove kit on the right in the graphic shown at the top of this post. Good luck everyone!
And don't forget to visit all the other bloggers who are supporting this giveaway:
1. Food Storage Moms | 2. Frugality Gal | 3. Survival At Home | 4. Home Ready Home | 5. Fabulous Farm Girl | 6. Ever Growing Farm | 7. Sharing Lifes Abundance | 8. Food Storage and Survival | 9. I Get Ready | 10. Timber Creek Farm | 11. Kneaded Creations | 12. Blue Yonder Urban Farms | 13. Simply Living Simply | 14. Simple Family Preparedness (that's me!)| 15. Prepared-Housewives | 16. PreparednessMama |17. Survival For Blondes | 18. Common Sense Homesteading | 19. Trayer Wilderness | 20. Melissa K. Norris | 21. Memories By The Mile | 22. The Busy B Homemaker | 23. The Backyard Pioneer | 24. The Prepared Ninja | 25. Whole New Mom | 26. Imperfectly Happy | 27. Lil' Suburban Homestead |National Emergency Preparedness Month
This Kelly Kettle Giveaway is open to any resident who is 18 years of age or older who lives in one of the 48 US Contiguous States. This giveaway starts on Monday, Sept. 15th at 5:00 am (MDT) and ends on Saturday, Sept. 20th at 5:00 pm (MDT). The winner will be notified by email and will have 24 hours to respond. If we do not hear back from said winner in the designated time period of 24 hours we will choose another winner and they will have 24 hours to respond from the time the notification email is sent. Please check your SPAM email folders. Good luck to everyone! Let's be prepared for the unexpected!
a Rafflecopter giveaway