Seal a Meal options are the perfect solution because they eliminate food waste, saving you money in the long run. If you have a large family and constantly buy in bulk, or if you like stocking up when a sale on meat and produce comes up, you'll know preserving these foods is important for preventing spoilage. However, doing so can be a real challenge.
Sure, you can throw frozen bananas or chicken in freezer bags to use on another day, but you'll find that ice and freezer burn will eventually take over and render these foods tasteless, even if they're still edible.
And unexpected food waste doesn't end with meat and produce. Even dry goods, such as flour and cereal, can get stale (and sometimes attract bacteria growth) if not properly stored in airtight containers. With all this to consider and more in food preservation, you might feel prolonging the life of your food and getting your money's worth is a losing battle.
The Benefit of a Quality Seal a Meal System
A quality Seal a Meal system will do just that—seal a meal. It will eliminate air from a container—bag, can, or bottle—that contains your food. It will then bond the bag so no air enters it. The bag should also be easy to open when you're ready to consume the food.
The major benefit of the Seal a Meal system is preserving the life of your food in its freshest state to enjoy later. With a Seal a Meal system, you won't have to worry whether that great-tasting steak you cooked for your friends will lose its flavor when you eat it as leftovers for dinner the next day or week.
Another benefit is that it's economical. Having a Seal a Meal system will allow you to stock up on food, whether it's meat, fruit, vegetables, spices, or baking ingredients. You'll save money in the long run by not having to shop frequently or losing out when bulk sales come up.
Lastly, a Seal a Meal system can support your meal prepping activities. If you're busy throughout the week and can't prepare a home-cooked meal every day, a Seal a Meal system can portion out time-consuming prep items like meats and produce. You can take one day out of the week to prepare and portion your food, seal it, freeze it, then grab them as the days pass. You'll have something fresh and healthier in an instant.
How We Reviewed the Seal a Meal Vacuum Sealer System
We'll look further into the Seal a Meal system, explain how it works, and examine the unique features that make it a popular choice. We'll review three other sealer systems on their special features, design, assembly, ease of use, and relative price. Finally, we'll leave you with a solid idea of how a sealer system can benefit you, and deliver our recommendation of the one you should invest in.
What Is the Seal of a Meal Vacuum Sealing System?
Anyone can operate a Seal a Meal system with no fuss. In three steps, you can have your leftovers or portioned food freshly sealed to enjoy on another day. All you need to do is place the portioned food in its own plastic bag and line up the plastic bag to the machine's sealing strip. Then, lock the machine's cover on the open end of the plastic bag, which will be on the drip tray. Last, press down the lid firmly with both hands, and hold until the indicator light is on. Then remove your hands, and the machine will vacuum out the air and seal the bag.
Product Specs
Being able to eliminate air makes this Seal a Meal system truly special. But that's not all. This system's sealing bags are microwave and simmer safe. You can portion out complete meals and pop them in the freezer, or throw them on a plate to microwave, or in boiling water to heat up when ready to eat. You can also write on these bags, which is helpful for identifying food, even food that's seasoned or marinated.
Also, it's very easy to use. With just the press of a button, you can watch your food being preserved within minutes.
Pricing
You can find a Seal a Meal vacuum sealing system for around $30.00 to $50.00 per machine. Prices can vary depending on where it's purchased and even whether it's bought or used from an individual seller. There are also opportunities to get it cheaper than the manufacturer's price through sales and discounts that happen throughout the year, especially during holidays.
You can find the Seal a Meal vacuum sealing system at big box stores like Target and Walmart, and online at marketplaces, like Amazon. You can even find it at heavily discounted prices through individual sellers on sites like eBay.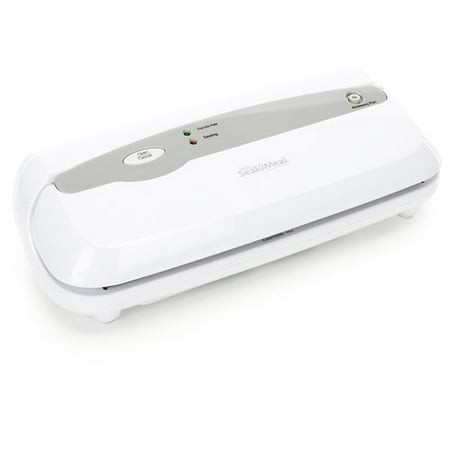 Seal a Meal Vacuum Sealer System Compared to 3 Similar Products
We picked a few similar products available on the market to see how they compare.
1. Seal-a-Meal Manual Vacuum Sealer System
Ease of Use:
There are only three steps to operating this system. After the bag is filled, line up the opening to the sealing strip, clamp down on the cover, then press the button to seal out air.
Design Quality:
The design of this system is simple and sleek and will fit many kitchen styles. Its dimensions are 17.1 x 9.3 x 6.2 inches, and it weighs only 1 lb, which makes it easy to store on the corner of a countertop, or in the cupboard when not in use. It's also dishwasher safe, making it very easy to clean.
Warranty:
This system has a 1-year limited warranty.
Seal-a-Meal Manual Vacuum Sealer System & Starter Bags -...
THE FRESH SOLUTION FOR FOOD STORAGE: Vacuum sealing removes all the air from specially designed bags, then uses heat to...
PRESERVES TASTE & NUTRIENTS: Confidently store fresh fruits, vegetables, cuts of meat, fish, and more! When air is...
MAKES SAVING TIME & MONEY EASY: Prepare meals or ingredients ahead of time for no-hassle weeknight dinners that you can...
2. FoodSaver V3835 Automatic Vacuum Sealing System
This is a professional sealing system that takes care of all your food storage needs. It's a two-step system that does all the work; all you have to do is fill the bag with your portioned food and place the opening into the system. Then the system will automatically start vacuum sealing.
What makes this system even better is that it not only seals out air but also moisture, ensuring dry goods last longer and don't develop mold and bacteria. It uses specially designed multi-layered bags to preserve your food. These bags are in a built-in roll storage system that cuts the bags into the size you need, eliminating waste.
Ease of Use:
There are only two steps that are required to operate the sealing system, and you barely have to lift a finger to do it. Simply place the opening of the bag into the appliance and it does the rest.
Design Quality:
At a size of 16.8 x 5.2 x 10.2 inches, this system is compact enough to stay on the counter without consuming much space. It also seals cans and bottles with its FoodSaver containers and canisters.
Warranty:
This system has a 1-year limited warranty.
3. NutriChef Vacuum Sealer
This stain-resistant sealer supplies everything you need to preserve your food, even liquids, and drinks, with its wine stopper cork. It comes with plenty of bags, which include five medium vacuum bags and one extra-long vacuum bag roll. It's easy to use, and with just the touch of a button—choosing between dry and moist food—it'll do the rest.
Ease of Use:
This sealer is a one-touch operation system. All you need to do is place the opening of the bag between the machine and close it. Press the button and it does the rest. You only have to decide if you're sealing dry or moist food.
Design Quality:
This system is easy to handle and care for. It's stain-resistant, and cleaning only requires a damp cloth after each use. It's also compact at 14.1 x 6.0 x 3.0 inches, and less than 3 lbs. It can easily fit on a kitchen countertop corner or in a cupboard, and with its sleek design, it nicely decorates any modern kitchen.
Warranty:
This system has a lifetime warranty.
NutriChef PKVS Sealer | Automatic Vacuum Air Sealing System...
THE IDEAL MONEY AND TIME SAVING SOLUTION: Cooking and meal preparation will become easier, less expensive and faster, as...
EASY TO OPERATE: Fully automatic simple electric plug in design with the control center placed on the top panel and soft...
TWO SEALING MODES: Useful and practical, the NutriChef vacuum sealing system is cleverly designed owning two selectable...
4. FoodSaver B016C4KK20 Vacuum Sealer
This is an outdoor sealer that's perfect for hunting trips and camping. Seal meat, snacks, and meals up to 120 lbs. What's unique about this sealer is that it can seal up to 40 times before it has to charge again, giving you long-term, uninterrupted use. It has an extra-wide sealing strip that ensures you get a solid airtight seal.
Ease of Use:
This sealer has a simple construction that's easy to follow. Place the opening of the bag inside the sealer slot. Next, turn the side latch to lock in the bag, then press the button at the top to seal.
Design Quality:
This system is perfect for travel, being 5.5 x 16 x 3.9 inches, and weighing around 5lbs. Designed for outdoor use and sealing meat, it's heavy-duty and seals out air from dense food. You can also create custom-size bags using the auto-seal feature, so this sealer is extra economical.
Warranty:
This system has a 5-year limited warranty.
FoodSaver Vacuum Sealer GM2050-000 GameSaver Outdoorsman Sealing...
HARD-EARNED GAME STAYS FRESH LONGER: The GameSaver Vacuum Sealing System removes air from specially designed bags, then...
HEAVY-DUTY CONSTRUCTION: High-performance power processes and preserves faster with up to 40 consecutive seals or 120...
SECURE, AIRTIGHT SEALING: The Vacuum & Seal button begins the vacuum sealing process, then automatically seals the bag...
Conclusion
Sealers are valuable systems that anyone can benefit from. We all have occasions where we buy more food than we'll need for the week, or simply have leftovers. Just as we have these occasions, we also know how unappetizing freezer-burned, stale, and old food is.
With systems like Seal a Meal, you can preserve food nearly five times longer than the average lifespan of regularly stored food. In a year's time, you can save thousands of dollars, getting much more back than you paid for the sealer.
So you really can't lose by investing in a sealing system; the decision to get one really comes down to which system is right for you. Space and storage are always a concern, but other concerns can be ease of use and the type of seal you're looking for. If you're an avid baker, or even if you like to bake once in a while, getting a seal that can lock out moisture, as well as air, will be a preferable choice. Or if you're a hunter, having a portable heavy-duty sealer for wild-caught meats will be best.
Final Thoughts About the Seal A Meal Product
If you simply want a reliable tried-and-true food sealer, then we have a recommendation for you. With 4 stars out of 5, that's the Seal a Meal Vacuum Sealer System.
We like that it's very easy to use. There's no assembly needed and once charged, you just slip the bag opening under the cover and press a button. That's it. And clean-up is simple. It's dishwasher safe, so if you don't like hand washing, you won't have to worry about that.
This sealer also offers flexibility, especially regarding the bags. The bags are microwave and stovetop safe, so if you want to create portioned meals to cover you for an entire week, this sealer allows for that. Either throw a bag in the microwave or thaw and heat one in boiling water.
We can't ignore the price. For around $40.00, you'll quickly get your money back with the money you'll save by preserving your food. It's a real steal that will make you a fan of food vacuum sealing systems forever.
Last update on 2023-03-29 at 15:57 / Affiliate links / Images from Amazon Product Advertising API