An emergency car kit is a good idea because most of us spend a significant amount of time in our vehicles. If we aren't at home, we will likely be where our car is. With that said, medical supplies are your best bet to keep you and your family safe while on the road.
Is an Emergency Car Kit Really Necessary?
I keep our main 72-hour kit go-bag in our van, and for a long time, I worried if I had everything I needed in it and whether a separate car kit was necessary.
However, a few years ago, my blog readers began asking about my car kit. So, I gave it more thought. In doing so, I came up with quite a few scenarios that I was completely unprepared for. Actually, some emergencies are only possible when you are in your car—like getting stranded. As a result, I've revamped our car kit, and I'd like to show you what I've done.
Common Reasons For Car Emergencies
When you're out cruising the streets, there are a few things you should be cautious of. Here are some of the main incidents that cause roadside incidents:
Tire Blowout
Before you head out, make sure your tires are properly inflated. According to Goodyear, tires that are underinflated cause the tread in the tire to decrease.
Keys
We all have been out and about running errands, taking out the phone and we lock our keys in the car. This is one that you have to be very careful not to do because if you don't have your keys, you can't get you emergency kit out of the trunk. It's a good idea to have a protection plan like AAA for situations like this.
Car Batteries
Battery failure is one of the most common reasons for getting stranded on the side of the road. I would suggest that you keep some jumper cables in your car.
Mechanical Failure
Unfortunately, you never know when your car might stop on you. The good news is, we live in a modern world where we can call for help if we have a breakdown. It's a smart idea to have snacks in the car in case you have a long wait before help comes.
What I did not include in my kit:
I usually have our full 72-hour kit go-bag in the car. However, I didn't include things like clothes, blankets, medication, toothbrushes, and soap in it.

I also didn't add any shelter items. In most cases, I believe I could use my car as a covering for protection. Plus, my 72-hour` kit go-bag has shelter items in it.
What's the Emergency Car Kit Helpful For?
I categorized my preparations into three separate categories and I'll go over each individually.
1. Small everyday emergencies such as:
Someone needs a band-aid

A newly potty trained child needs to go to the bathroom and there isn't one near

My hair is driving me nuts and I need a hair tie

I've got a headache
2. We are stranded for any number of reasons:
The car breaks down
We get stuck in bad weather
3. We have to walk some distance because:
The car breaks down and we need to walk to the nearest town.

There is a natural disaster and help will take a long time to come.
I need to note that I feel a situation where the entire family would need to walk for a long distance would be pretty rare. Even if there was a disaster, we might still be able to slowly drive our car to the nearest town. If we broke down outside of town, we'd likely call a tow truck.
However, If we were forced to walk to town, either my husband or myself would do it; the other would stay behind with the kids. I think in most situations, we would be able to better survive in our car than out in the elements. But since I know there's a possibility that we would be forced to evacuate our car, I've included a few provisions if that happens.
3 Emergency Car Kit Ideas for 3 Different Situations
Alright, now let's look at the products in each category!
1. Small Everyday Emergencies:
A few bandages, alcohol wipes, and Neosporin

Children's Ibuprofen

Adult Tylenol and Ibuprofen

Feminine products

2 water bottles (my two girls are ADDICTED to water, which creates "mini-emergencies" all the time)

Sippy cups

Lotion

An empty water bottle and a

collapsible funnel

(This is necessary when you have three kids that are out of diapers but still can't "hold it" for long)

Hand Sanitizer

Sunscreen

Empty Gallon Ziplocs (think soiled clothes or stinky diapers)

Small Flashlight

(LOVE these: we own way too many to count)

A bag of random small stuff (chapstick, hair ties, pens, a safety pin, and rubber band)

Tissues

Diapers and wipes

Napkins

Crackers

Cash

Cell Charger
Here are all of the supplies:
I put it all in this bucket (except for the napkins which went in the glove compartment):
And put it between the two front seats:
2. If we are stranded:
Antifreeze

Shop Towels

(similar to paper towels, but much thicker and more durable)

Windshield wiper fluid (we've run out in the middle of a snowstorm before…not fun or safe)

Work Gloves

Rope

Large Flashlight

with batteries taped to it (so they don't get drained by being inside)

Duct Tape (it can fix anything, right?)

Water for washing and cleaning (the water that has been in our car for over a year, so I won't drink it, but I've labeled it for washing)
I also have additional suggestions of items you may want to consider if you are stranded during a winter storm: Winter Car Kit
Here it all is:
I put it in this tub:
And put it in the back of the van with extra water, sheets for picnics, and our main 72-hour go-bag kit:
I've also set a goal to keep shoes in the car for everyone. I've always told myself this was unrealistic because I can't afford to buy an extra pair of shoes for the kids each year just for them to sit in the car. But I finally decided that we can store our gym shoes in the car instead of our rooms. When we take them off, they simply go back in the car instead of our closet. We'll see how it goes!
When we go on road trips, I take out everything but the tub and we pack our stuff on top of it. I chose that tub because. it is short and long which makes it easy to stack things on top of it. I know that would make it difficult to get to our things if we got stranded, but I'd rather deal with that stress than try to pack it on top of everything!
I've also included a few other items in different areas of the van. We are lucky to have a lot of little cubbies areas for storage in our van. Here's what we store inside the car:
Crackers/Snacks

A mini fire extinguisher

A couple of small cans of

freeze dried fruit

Extra wipes

Extra Blankets

Map of the area
3. If we've got to leave the car:
I know that our full 72-hour kit go-bag is in the car, but I wouldn't want to carry it is because it's heavy. This bag has only what I think I might need to walk into town.
Crackers

Six water bottles

Wipes and diapers (I keep the wipes in a Ziploc inside their carrier. Otherwise, they dry out after just a few weeks.)

Granola bars

Feminine Needs

Pain killer

Heat packs

A small first aid kit

Whistle / compass

Toilet paper

Garbage bags (to be used as ponchos if needed)
And I put it in this bag:
Where to Buy the Supplies:
A lot of these items you might already have lying around the house. Take a look and I bet you'll find things you didn't know you had!

You can also purchase a lot of them through the links above. The green links take you to the website where you can purchase that particular product.

Most of it can be purchased at your local Walmart or Target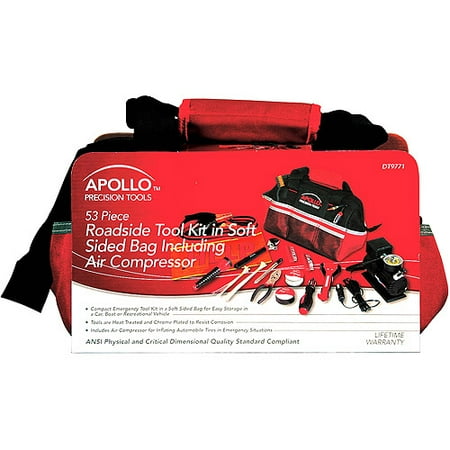 What To Do If You Have A Roadside Emergency
Having an emergency kit on hand is great, but there's more to safety than having supplies. There are some important procedures that you need to follow in order to keep your family away from danger.
Get Off The Road: The first order of business is to get off of the street. If you have to pull over on a busy highway, make sure you exit from the passenger door. Also, if you have to walk away from your car, leave a note on the windshield with your cell number in case law enforcement checks your vehicle.
Display A Distress Signal: If you require help from the police, open the hood of your car and wrap a white cloth around the antenna or the door handle.
Lock Your Doors: If you have to sit at your location, make sure you keep your doors locked and your seatbelt on.
Use Precaution: Practice good judgment when accepting help from strangers. If someone volunteers to assist you, only lower your window enough to talk. If you already have help on the way, let them know and don't accept their help. However, if you do need assistance, ask them to make a phone call for you.
Final Thoughts On Having An Emergency Car Kit
Putting an emergency car kit in your vehicle might seem a bit paranoid, but I promise it's worth it. If the time ever comes when you need it, you'll be glad to have it. Honestly, it's not that far-fetched to believe that an emergency incident could happen while you're in the car.
Severe traffic jams, bad weather, or a car accident can happen at any time, so make sure you're prepared. I'd like to hear from you. Do you have a car kit? What supplies do you think are necessary to put in your vehicle?